Since it is new construction, our address does not show up in most map apps   : / .
Hopefully, these directions and the map and picture below will help! We are the red pin on the map above (across from Grins and Giggles).We are in the Arbor Greens neighborhood off of Newberry Road. Directions from I 75 and Newberry Road in Gainesville:
Head west on Newberry Road.
Just past Town of Tioga, look for the Arbor Greens sign on the Right.
Turn right on  into Arbor Greens/NW 136th Street.
At the traffic circle, take the first right and park. The Lamp Post is the brick building!
We are exited to welcome you!
New Address: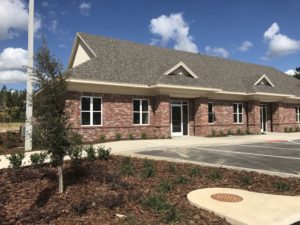 13568 NW 1st Lane
Gainesville, FL 32669